House Washing Bundaberg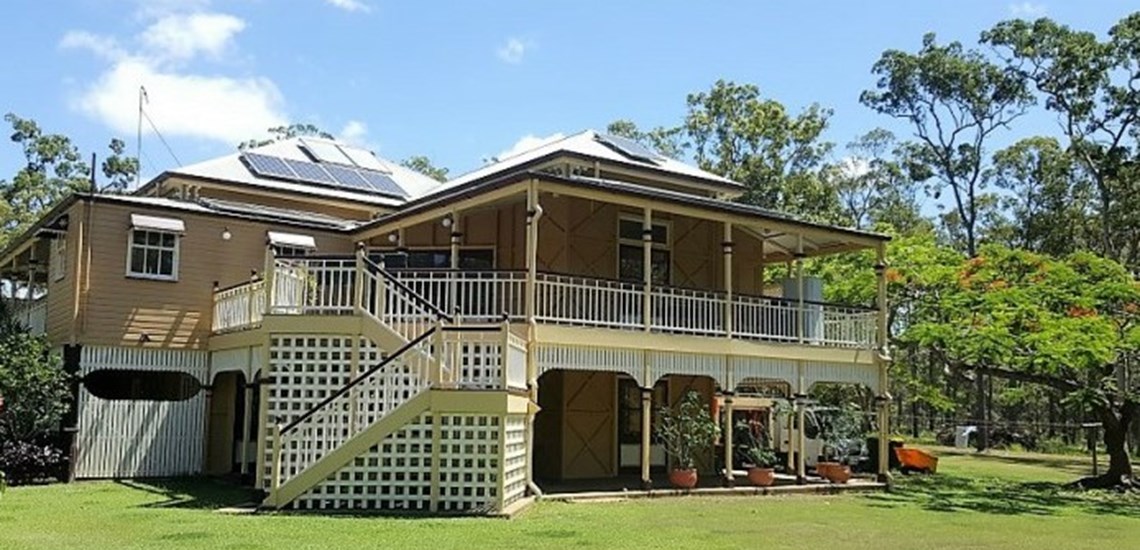 One of our regular house washing clients
House washing  in Bundaberg using the best pressure cleaning and soft wash techniques to make the outside of your house house shine again. With many years in the industry, we have gained a great deal of experience on the best products (biodegradable) and equipment to clean all types of houses. This gives you a superior result adding years to the life of your external paintwork. 
Many times we have done a professional house wash and the client saves the money as they thought they would have to allow for a repaint. Let Cleanupcrew show you just how well your existing paintwork will look. The result is like chalk and cheese and you can save that cost for use somewhere else.
Bundaberg's climate is perfect for growing mould and other things that don't belong on your house. We have a great low pressure soft washing method to kill and remove these quickly and return your house back to pristine condition. Timber houses are easily cleaned by this method without the problem of damaging the surfaces using high pressure. To explain the benefits of softwash go to this Softwashing page.
The same low pressure method is perfect for doing windows and screens leaving a streak free finish. Imagine your screens and windows cleaned removing dust from screens and leaving a fantastic clean window without the need to remove screens.
Two storey houses are no problem to clean from the ground using our  equipment and without the need for expensive cherry pickers and the like. If for some reason these are needed our team have the training and tickets to operate them safely.
Why choose us?
We are the best Bundaberg house cleaning service and do service surrounding towns including Hervey Bay, Gladstone and Maryborough. We can give you an accurate quote using Google maps and maybe a few extra pictures of your property. If you have a friend who would also like their house cleaned  or roof cleaned this means travelling costs are shared or absorbed in the price.
After you contact Cleanupcrew we will take care of the rest. We will provide a free quote after talking with you about the areas you would like cleaned.
Cleanupcrew technicians are trained in all aspects of exterior cleaning and customer service.
You can sit back with the knowledge you have made the right choice.
After so many happy clients and clients amazed at after our work, we will guarantee all of our house washes to the point you will be impressed.
More information on soft washing.
The top ten reasons why our house washing customers love to deal with us.
We turn up on time ready for detailing your house.
We listen to your wishes and follow your requests.
After cleaning thousands of houses you are guaranteed a great job.
The best methods are used to clean your house, soft wash for delicate surfaces and pressure for concrete and other hard surfaces.
We take care not to damage your garden, always hosing down plants before we start.
Our charges are very reasonable as we have the best gear in the business and can do  your house quickly and to a high standard.
We apply a free anti mould solution to keep your house cleaner for longer. ( $80 value)
You don't have to be home for our services giving you more flexibility
Removing mould and debris from your paintwork increases it's lifespan and appeal.
We take pride in our work and will also beat any legitimate quote.
Get a Free House Wash Quote Now
Benefits of Cleanupcrew's house washing services :
Stop mould and organics deteriorating your home. It is well known that reducing invasive organics will increase the life of your paintwork and lessen the chances of mould eating the timber and other materials your house is made of.
Increase your house's curb appeal. After a Cleanupcrew clean, you house will look fantastic. Our proven systems condition your paintwork and eradicate organics. This process keeps working so your house actually continues to improve and will look even better after a few weeks.
We take great pride in our cleans and will give you a professional evaluation of any areas of your house that may need attention.  It's our job to cover every inch of your house and we see things that may need attention - Many homeowners thank us for alerting them to items that are not part of a homeowners general activities. An added bonus when you get our team to clean and inspect while washing your house.
Quicker than manual cleaning. This frees up your time to enjoy life instead of a labour intensive cleaning of your house. Leave it to the experts , with the best gear and tried and proven methods.
A mould free house - which is so beneficial to sufferers from allergies. You may not be aware of your health conditions that are made worse from the organic spores in the atmosphere. Cleaning mouldy surfaces have a proven benefit to allergy sufferers.
Benefits for allergy sufferers
With dust mites being the most common source for allergy sufferers a house wash will remove some of the causes. If you have cleaned the inside of the house to minimise these critters then a house wash is the next step to allergy freedom.
A house wash will remove pet dander which is a major source of allergens. Allergens are present in the sweat glands in cats and the salivary glands in dogs. Keeping pets outside means an accumulation of dander laiden with substances that trigger allergic reactions.
If you are allergic to mould then our services are spot on. House washing involves treatment which is perfect to reduce sniffles and sore eyes.
Pollen minimisation is part of our house washes. Our low pressure fan sprays can deliver a biodegradable product to your fly screens and rinse them using the same low pressure. This leaves your screens completely free of dust, pollen and other allergens so you will breath better.
If you suffer from any of these symptoms maybe we can help.
sneezing.
runny or stuffy nose.
watery and itchy eyes.
ear congestion.
postnasal drainage.
itchy sinuses, throat, or ear canals.
External house washes are something people don't think about when reducing allergens. We hope our services can reduce your suffering.
House washing and pressure cleaning services offered
House washing Bundaberg
Roof cleaning Bundaberg 
High pressure cleaning Bundaberg
Concrete high pressure cleaning
Driveway cleaning Bundaberg
Fence high pressure or soft wash Bundaberg
Body corporate exterior cleaning Bundaberg
Path ,pavers and outdoor pressure cleaning Bundaberg
Areas covered around Bundaberg for house washing and pressure cleaning
Bundaberg Central
Bargara
Innes Park
Coral Cove
Avoca
Moore Park Beach
Childers
Maryborough
Hervey Bay
Start enjoying a clean house and reduced sniffles.
Specialised services for..
CleanUpCrew
Mailing Address
PO Box 6148
Bundaberg East QLD 4670
Get a free quote from the best-rated house & external washing experts in Bundaberg.