About Cleanupcrew - Bundabergs leading external cleaning contractors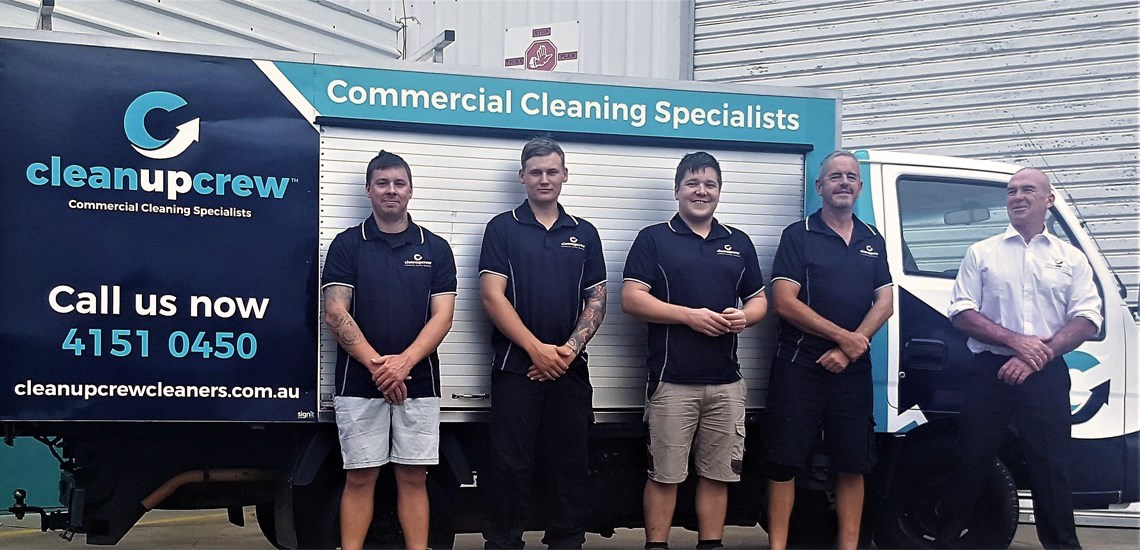 Cleanupcrew - High pressure and soft wash Cleaners and Cleaning Contractor Specialists. 
At Cleanupcrew the satisfaction of all our clients is our number one priority. We aim to do this by providing the best external cleaning service available. Our staff will work with you to plan a cost-effective cleaning solution that causes the least disruption to your staff and the public. 
We can do this because we have the right equipment for your job, however small or large. For most jobs, this includes commercial truck-mounted pressure cleaning equipment and long pressure hoses. These make it possible to complete most jobs from a single location. Soft wash services using the same hose. Thinking WHS, this is so much safer than having cleaning equipment laying around. This minimises any damage to gardens etc during domestic cleaning jobs.
As commercial cleaners, we can provide a full range of services through our network of providers. We service all areas of Queensland and have a large presence in Bundaberg, Hervey Bay and Maryborough.
Our Experience
We have wide experience cleaning many different types of surfaces, and use specialised cleaning equipment , biodegradable chemicals to give you the best result. Soft wash or high pressure, we have the equipment.
We have 15 years of experience cleaning all types of infrastructure. We have the best equipment to give you the result you want.

We pride ourselves on our reliability and having an experienced team that will work hard until the job is done.  We are courteous, friendly and co-operative and can work with clients and other contractors in a positive and productive way.
100% Customer Satisfaction
As a commercial exterior cleaning contractor, our clients are always happy with our work.  They deal with our owner, and he personally guarantees everything we do. View client feedback on our reviews page. 
Fully OHS compliant and insured 
We are fully OHS compliant, have well-documented policies and procedures and have $20 million business insurance cover. Our admin systems provide transparency, a fast quoting system and efficient invoicing and tracking of all works. We are familiar working with government, councils and large organisations, our team will solve your needs in the correct manner. If you would like the best professional cleaner to look after your needs please contact us as you will be glad you made the call.
Here to help you 
Our staff are here to help maintain and increase the life of your assets, increase your customer appeal and increase your turnover by enhancing your premises.
So if you are looking for a high quality, hassle-free and cost-effective solution to your cleaning needs, get in touch with the Cleanupcrew. You will be very glad you did.
Specialised services for..
CleanUpCrew
0427 575 195
Mailing Address
4 Jacobsen st, Norville. QLD 4670
If you ever need the outside of the house & paths cleaned this is the business to call. So professional & great value!

Gayle Christiansen - Home Owner (Facebook Review)
Get a free quote from the best-rated house & external washing experts in Bundaberg.
Why work with us
Short response time
Quicker cleaning jobs guaranteed
All staff fully trained and certified
Superior equipment guaranteed
$20,000,000 Public Liability Insurance
Expertise in high risk cleaning jobs
Council preferred contractor