Roof Cleaning Bundaberg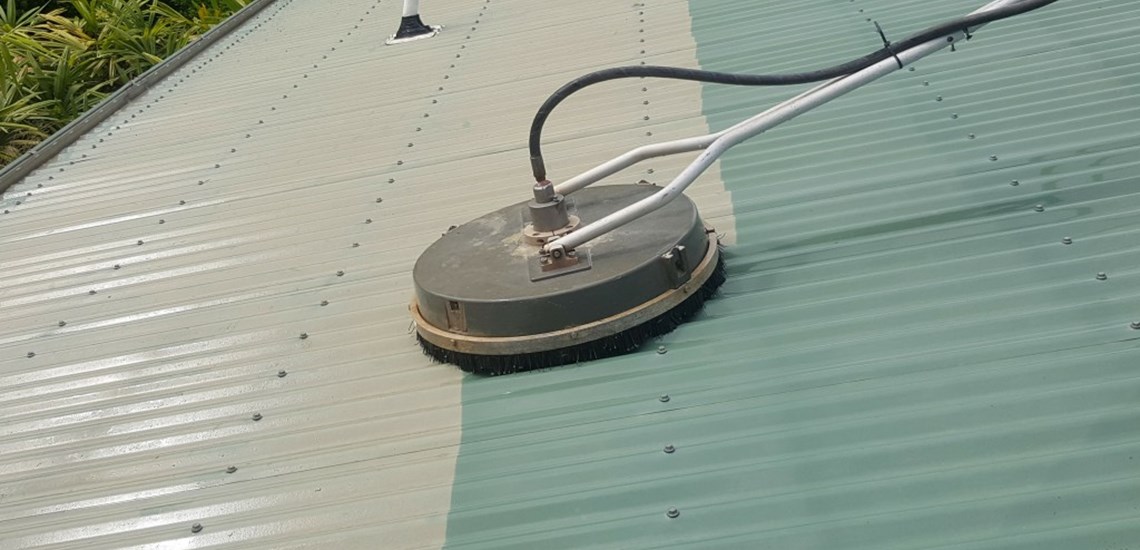 Roof cleaning done by Cleanupcrew
Roof cleaning by Bundaberg professionals.
To many having the roof professionally cleaned is something that gets overlooked. It's common that an owner spends days with a domestic gurney cleaning the roof to get a result that looks clean. While this saves money the roof, it will return to its original state quickly. Some owners will employ a handyman, this is not what they specialise in. Roof cleaners near me will give various responses although Cleanupcrew's roof cleaning services will clean roofs to a far higher standard giving years of clean roof. This is important to take into consideration before you start. Value your time it took then starting at $300 you can have your roof cleaned while you watch and enjoy time with your family. If you are not used to walking on roofs then it becomes a important factor with many householders ending up at the emergency department after a fall. An instant roof clean is our service. The roof cleaning cost is small compared to the benefits.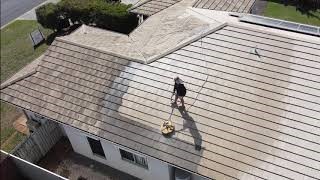 Commercial or domestic roof cleaning?
Domestic roof cleaning is the area that we love, we enjoy working with family clients and always do the extra miles. If we are at your house for a roof clean, doing the drive or entertainment area will be at a reduced rate as we are there already. 
We have cleaned large commercial roofs with fantastic results. Although we love domestic colorbond and tiled roofs, cleaned on a daily basis. Our cleaning staff listen and provide the best result with the least cost to you.
Generally we use pressure cleaning to clean roofs although we have full soft wash capabilities also. We prefer pressure cleaning Bundaberg over softwash for roofs as it gives an immediate result and seems to last longer especially on colorbond roofs.
Book a free quote for roof cleaners in my area -  Quote form
Our difference and other roof cleaning services.
CleanUpCrew use high pressure  equipment, 5000 psi, 22 lpm commercial rotary cleaners, which can be adjusted to provide optimal conditions for  each roof. Our equipment is mounted on a special pressure cleaning truck or trailer and  equipped with long pressure hoses so that we can park in one position and avoid the damage to gardens that often happens with smaller mobile units.
We also use gutter protectors to avoid damage to your gutters and we clean the outside of all gutters and provide  a full  gutter cleaning  for people that collect rainwater as part of our service.
Solar panels are cleaned free of charge . The best way to clean lichen off solar panels involves treating them with sodium hypochlorite (chlorine) diluted and mixed with a surfactant (soap). This is applied under low pressure left to dwell and kill the lichen. Then it is simply a matter of using clean water and a broom to remove them. This process will leave them looking great for longer and won't hurt the solar panels. 
We also hose off the outside of the house to ensure that no grime from the roof remains on the house itself. As a bonus, we generally provide a quick clean of the soffits and surfaces that increase the appeal of your house and finish our work so you are 100 % happy and let your friends know.
Presentation and customer service is what holds Cleanupcrew ahead of our peers.
Many times we clean other areas while at your house  for far less than it would normally cost. We are very happy to provide  you with other services or sometimes we just do it as we strive to make you happy.
 We are the experts in Colorbond cleaning with years of practice. We can get the best result with your roof staying cleaner for longer. Lichen is a big issue with lighter coloured roofs and this is best cleaned using our high pressure surface equipment. Tiled roofs may be soft washed using our patented cleaning products. Either way you will get the best result. Soft washing is becoming more popular as an alternative to using pressure alone. Using this process not only cleans your roof but kills all algae, mould and lichen. Leave it up to us to give you the best result.
Are you thinking about hiring equipment and tackling your required roof cleaning job yourself?
If you are please consider these points:
Roof cleaning is dangerous. Each year many householders are admitted to hospitals after accidents on their roof. Cleanupcrew are fully compliant with height access requirements and live on roofs. This means our staff are used to working on slippery surfaces and difficult angles.
Inexpert operators often damage the roof or send water into the roof cavity. Cleanupcrew have the experience to keep this to a minimum.  Some water is always going to get through the surface via ridge capping or tile overlap. This small amount of water runs down the silver paper (underneath the tiles) and into the gutters.
The equipment used by most DIY operators give the impression of a clean result. We guarantee our roof cleans for years using higher pressure and the best gear)
Smaller operators do not have the capacity to remove the mould and lichen with the same effectiveness as a our rotary cleaners.
Some benefits of a professional roof clean:
protects your home, your biggest asset
makes the house sell faster, for more money
is far less costly than roof restoration/ painting
removes built-up grime, and damaging mould and lichen
removes allergens that affect your health
extends the life of the roof
makes your roof look the best in the street
Roof cleaning myths
Your tiled roof will leak after pressure cleaning
Complete nonsense. Most tiles are made of concrete and removing the residue from their surface will not make them leak. This is a common claim by the restoration people. They just want to charge you thousands to paint your roof. This is unnecessary unless you really hate your roof colour.
Painting your tiled roof will extend it's life
The painting of tiled roofs looks great for a few years although just having them cleaned at a tenth the price also does this. Tiles are generally made of concrete and last forever. Painting bites you after 10 years when they have been cleaned several times and the paint starts lifting leaving you with the extra cost of another roof paint. 'Roof restoration ' guys use acrylic paint which mould loves and they will discolour faster than just cleaned tiles. On the flip side metal roofs respond well to painting if you have a roof that the original paint coating is disappearing. Over the years many metal roofs have been recalled as the surface has been sub standard. Of course the new coat is normal paint and not powder coated like the original coat.
DYI roof cleaning is good enough
Many homeowners are seen in emergency each year as a result of roof cleaning. Leave it to the professionals with the best equipment to give you the best long lasting result. If you are not familiar with walking of slippery roofs it is far better to engage a reputable roof cleaner. Using domestic equipment will take you a long time, not remove the harder contaminants and take you forever. So much better to just make that call to a team that have the best gear and are used to walking roofs.
Steam cleaning your roof is better
There is no real fact that steam cleaning is superior than pressure cleaning to clean your roof. More expensive and not worth the extra money. Pressure cleaning tiled roofs by a professional gives a long lasting clean finish. Steam operates at a lower pressure and may not remove debris as we can.
Black roof stains are caused by the mill.
Cleanupcrew do thousands of roofs and there is no real correlation that cane trash or the mill make your roof dirtier faster. The black growth is more a result of our perfect climate. A climate that is fantastic for breeding mould and lichen. White colorbond roofs are by far the worst for lichen growth. Why is anybody's guess although if you have a look around you will see this. We do roofs far away from Bundaberg and they have the same characteristics. It's not what you think.  We have to admit  roofs close to the mill are more affected.
Areas covered around Bundaberg for house washing and pressure cleaning
Bundaberg Central
Bargara
Innes Park
Coral Cove
Avoca
Moore Park Beach
Childers
Maryborough
Hervey Bay
Specialised services for..
CleanUpCrew
0427 575 195
Mailing Address
4 Jacobsen st, Norville. QLD 4670
Get a free quote from the best-rated house & external washing experts in Bundaberg.