Exterior house cleaning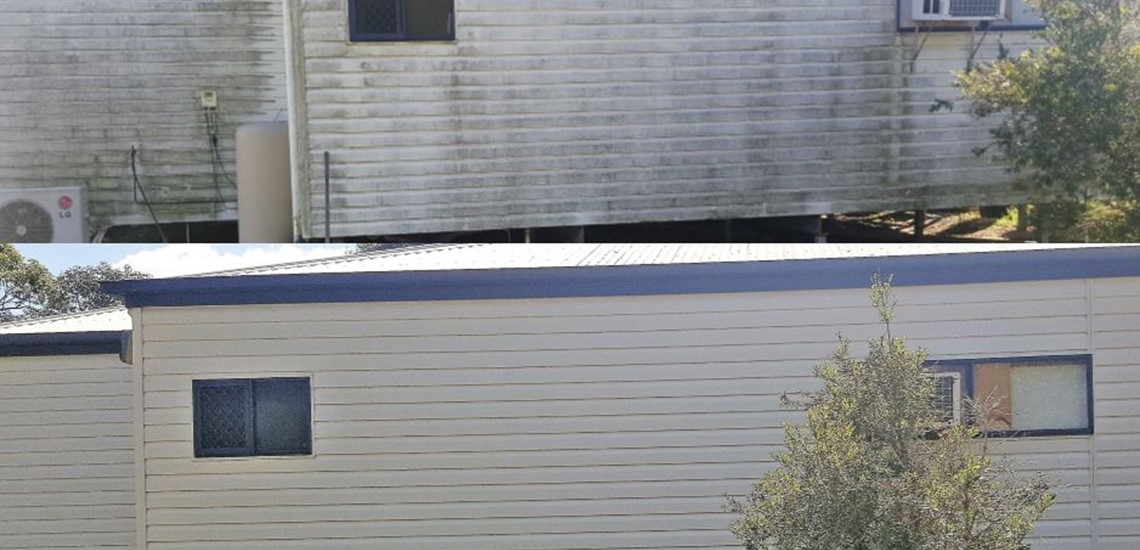 Easy low pressure cleaning of a house to give a great result.
As Bundaberg's best house washing service we take great pride in giving our customers great result. Our customers are always impressed.
Using the latest technology we are able to apply the best non hazardous chemicals to loosen the dirt, kill the mould and enhance the paintwork.
We have also done pre painting cleans and the result spoke for itself and the client decided not to repaint.
Book a free quote here -  Quote form
Bundaberg's climate is perfect for growing mould and our services are the best in the region to clean and protect your paintwork. Between the smoke and ash from the mill and burning of sugarcane and endless red dirt from farming, houses is Bundaberg get covered in a lot of debris that also adds to the issue. As some farms move from sugar to sweet potatoes this means more working of the soil making things worse for our houses.
We arrive at a house or building that looks a bit ordinary and leave with a property in pristine condition after our services.
Using our commercial equipment saves you money as straight pressure cleaning of houses is old school and treating the problem using low pressure is the latest way to remove dirt and mould and make sure your house or building is looking it's best..
We apply a product that contains 1.5 % sodium hypochlorite and a surfactant ( soft wash page ) , we have worked with industrial chemists to perfect. This solution not only kills the mould but it breaks the bond between dirt and the surface allowing us to wash off at low pressure. Very little scrubbing as the product does the work.
Cleaning windows and screens is an easy process leaving a streak free finish. We have the best tools to clean flyscreen's without having to remove them and without damage that pressure cleaners may do. So much cheaper for you.
Our exterior cleaning services include Roof cleaning ,  Driveway cleaning , and all aspects of House washing and cleaning so we have all of your needs covered. From the kerb to the roof. This is an important service when it comes to selling your house as first impressions count. You get your car detailed before selling so getting the same treatment for your house is a no brainer.
Please make contact with the right company for the job.
Book a free quote here -  Quote form
Specialised services for..
CleanUpCrew
0427 575 195
Mailing Address
4 Jacobsen st, Norville. QLD 4670
Get a free quote from the best-rated house & external washing experts in Bundaberg.