Pressure cleaning Bundaberg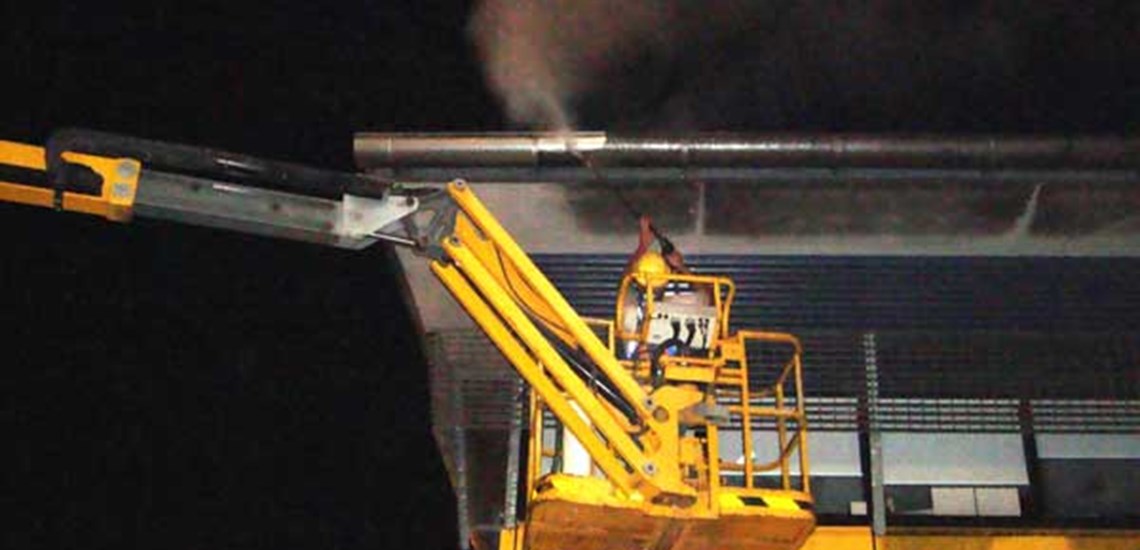 Pressure cleaning to remove mould and dirt.
Pressure cleaning for houses
Fantastic equipment to clean your hard surfaces around the house so the end result is better, cheaper and lasts longer.
A soft wash/ pressure clean approach is used to protect softer surfaces.
Our core services include:
Path cleaning
We also use biodegradable chemicals that will kill mould, giving you peace of mind.
Cleanupcrew uses the latest methods to give you the best result. Many surfaces ( pavers, concrete and colorbond ) need a contractor with a commercial equipment for a longer lasting clean.
Pressure cleaning pavers and concrete can be a time consuming activity, please ask us about the best ways to clean them or visit or page. Paver cleaning
Using pressure to wash a house is one way although we have spent time learning and provide you with a fantastic result. Exterior cleaning is moving with advances in chemicals and the cleaning may be achieved with a mix of high pressure or less invasive methods using the correct products to loosen the dirt and that will not hurt your landscaping or the environment commonly called soft wash.
We actually clean painted surfaces using a soft wash process, the best surfactants while only using pressure cleaning for hard surfaces such as gutters and soffits.
Best way to clean the exterior of your house is contact Cleanupcrew who have a team that are trained in all aspects of exterior cleaning , looking after your property and customer service.
You can sit back with the knowledge you have made the right choice.
Pressure cleaning of commercial buildings
Cleanupcrew provide these commercial pressure cleaning services and work with our clients to make this easy. 
Our gear includes trucks or trailer mounted pumps and over 300 metres of 6000 psi non marking hose. This makes your job easy. The motors we use are GX690 Honda's which are far larger than a handyman would generally use. Our pumps, gearboxes and turbo nozzles are all made in Italy where the best pressure cleaning gear comes from. We are never held up with machinery breakdown as we have spare equipment and a mass of spare parts.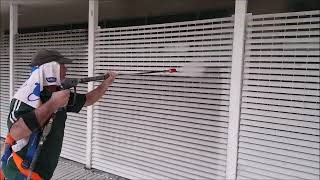 After many years operating a Bundaberg based high pressure cleaning service we have developed the best strategy for your business. We are self contained, no power needed, just a garden hose connection for water. Located in Bundaberg and servicing all of the Wide Bay .
We have developed the latest soft wash methods to bring your buildings back to looking their best using chemical injection in with the water supply. This makes the dirt and debris easily removable using less invasive ways than traditional pressure cleaning services.  
Cleanupcrew  provide this guarantee on all of our cleaning, and hard surface cleaning jobs. This makes it easier for you, choosing the most advanced exterior cleaning company to do your job.
Where pressure cleaning/ pressure washing is best used
Many people believe that cleaning is best achieved with a cheap pressure washer, taking hours of your time and giving a finish that is just not up to a commercial standard.
Pressure washing should only be used on harder surfaces not things like paintwork etc. These surfaces are far better cleaned using products that loosen the dirt and kill the mould. A soft wash approach. It may be very soothing to get out with smaller equipment and may appear to clean these surfaces although the mould spores remain and the surface will quickly become dirty again.
Cleanupcrew have the equipment to cut holes in bricks although this power is not often used. We can pressure clean any paths and driveways, brickwork and all harder surfaces. Softer surfaces need the correct treatment. 
By applying our eco friendly cleaning products to allow for a lower pressure to be used to clean the surface is by far the best approach on painted surfaces, rejuvenating your paintwork and bringing the shine back. We love showing this technique to people as it's a recipe that we have developed after 15 years in the business. So if you are requiring pressure cleaning in Bundaberg or further afield please give us a call.
Please give us a call if you would like to see the difference we can make.
House washing and pressure cleaning services offered
House washing Bundaberg
Roof cleaning Bundaberg 
Pressure cleaning Bundaberg
Concrete pressure cleaning
Driveway cleaning 
Fence pressure or soft washing
Body corporate exterior cleaning Bundaberg
Path ,pavers and outdoor pressure cleaning
Book a free quote here -  Quote form
Our Work
Specialised services for..
CleanUpCrew
0427 575 195
Mailing Address
4 Jacobsen st, Norville. QLD 4670
Get a free quote from the best-rated house & external washing experts in Bundaberg.